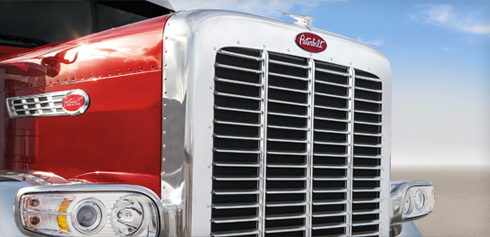 MODEL 389 PRIDE & CLASS SPECIAL EDITION
EXTERIOR
Jaw-dropping! The Pride & Class package is a stunning display of chrome and sophistication. No one can miss this awe-inspiring truck as it commands the highways.
With its eye-popping, head-turning features like the distinct louvered grille, brightly polished fenders and side-hood accent, this exceptional truck truly impresses from every angle.
The Pride & Class package demands the attention of everyone who sees it, and its driver instantly becomes the envy of all others.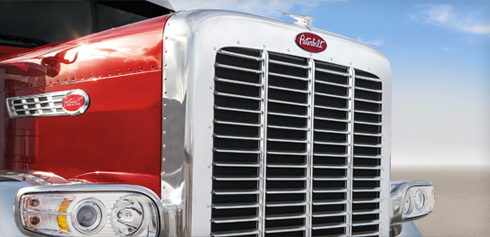 INTERIOR
Simply breathtaking! Sitting behind the wheel of the Model 389 Pride & Class is to own the open road. The Pride & Class package interior elevates the driver experience from ordinary to extraordinary. Exclusive, chic accents surround the driver with touches of understated elegance and comfort.
The unique interior features a dark dash top with a Pride & Class emblem and Blackwood finish trim throughout the cab and sleeper. Premium seats are black leather with red contrast stitching. Every inch of the interior is pure Class.
Lowest Cost of Operation
AERODYNAMICS
Peterbilt Innovations Reduce Operating Costs
A traditional cab design with aerodynamic enhancements for increased fuel savings ensures your investment in the Model 389 pays dividends long after the initial purchase price.
An optional fuel-efficiency package as well as Peterbilt's exceptional reliability and performance translate into an overall low cost of operation. Optional day cab configuration provides application-specific versatility.
PACCAR MX-13 Engine
POWERED BY QUALITY
The PACCAR MX-13 Engine brings higher levels of innovation through industry-leading quality, exceptional reliability and proven performance. The combination of a Peterbilt truck and MX-13 Engine offers a long-term value through technologically advanced
designs with lightweight materials that achieve excellent performance and superior fuel economy. The MX-13 provides longer service intervals, increased uptime, lower operating costs and higher resale value.
RELIABILITY AND DURABILITY
VERSATILITY FOR ANY HAUL
Peterbilt's all-aluminum cab is not only extremely durable, it's also lightweight to allow for increased payloads to maximize performance and profitability. The cab is huck-bolted with lap seam construction and bulkhead style doors for toughness, and corrosion resistance offers years of durable performance.
A lightweight and durable hood is the industry's only all-aluminum hood, with a rugged stainless steel grille that features a distinctive punched oval pattern and a one-piece, polished aluminum crown.
TECHNOLOGY
SMARTNAV™
Moving Forward
The Premium interior features the revolutionary SmartNav system, an integrated, infotainment system. SmartNav features a 7-inch touch screen that provides real-time vehicle monitoring, a truck-specific Garmin
navigation system, hands-free Bluetooth® connectivity, voice recognition, a fully integrated audio system with satellite radio as well as MP3, USB and iPod® capabilities.
OPERATOR COMFORT AND PRODUCTIVITY
CAB
Comfortable and Versatile
The Model 389 features an ergonomic dash that puts everything within reach of the driver and improves visibility.
The charcoal finish reduces glare and resists scratches and fading.
SLEEPER
Peterbilt's unique sleepers are built to deliver unparalleled fit and finish, quality and comfort. They feature plenty of storage, shelving, ample overhead lighting and a powerful HVAC.
The Model 389 offers a variety of front and rear suspension options including Peterbilt proprietary units that are lightweight for increased load capacity. Peterbilt's proprietary Front Air Leaf Suspension is lightweight and features a 20% improvement in ride quality over taper leaf suspensions for an extremely soft ride.
SAFETY
SAFETY FOR THE DRIVER, SAFETY FOR ALL
Halogen reflector, aluminum headlamps are protected with an impact-resistant lens. The bright, consistent beam pattern helps reduce driver fatigue. A robust gas spring design allows for easier opening and closing of the
battery/tool box and helps ensure items are stored safely and securely. Air disc brakes and electronic stability control are now standard and offer the best stopping distances.